Combat Paramedic Job for Army Medical Corps Australia

Part Time Combat Paramedic Army Medical Corps
Hiring: Combat Paramedics for the Army Reserve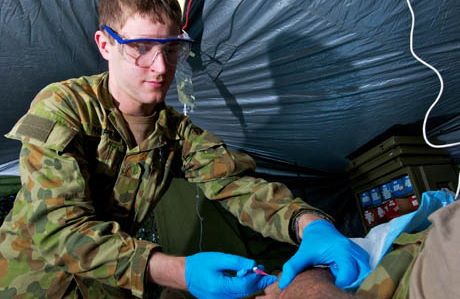 Royal Australian Army Medical Corps ensures provision of medically trained professionals for health care facilities, evacuation teams and clinical care in the Army. It is currently open to hire and train part-time combat paramedics. To maintain health and well-being of all army personnel, the role of combat paramedics becomes a necessity. Only applicants that have undergone rigorous training and made capable of carrying out jobs involving operational and non-operational conditions are allowed to serve.
$100.19 per day tax free salary range during military training. However, salary while undergoing complete employment training can go up to $114.51 per day tax free. Members of the Reserve working part-time are paid daily with a starting rate of $141.13 per day.
Location: Can be any of the possible major medical units, QLD -Townsville, Brisbane, NSW – Sydney. Newcastle, ACT – Canberra
VIC – Melbourne, SA – Adelaide, WA – Perth, TAS – Hobart
Work Type: Part-Time
Requirements and Qualifications:
Present employment qualifications and proof of current registration while recruitment process is going on. Applicants from other institutions like mining and oil rigs are not allowed.
Completed 10 year Australian Education Program
Diploma of Paramedical Science or higher qualifications
Certificate of Practice
Open only to Australian citizens. Only Australian citizens can apply for security clearances. Only in exeptional circumstances can non-citizens apply.
Must be at least 17 years old.
Undertake medical history and physical examination to assess medical fitness.
Pass aptitude tests conducted by military psychology attendants.
Minimum security clearance level required is Negative Vetting Level 1 and checkable background for a period of 10 years.
Additional Requirements:
Combat Paramedics are expected to handle conventional and unconventional injuries and illnesses in various scenarios. Can effectively form the first line of emergency response and evacuation efforts.
Provide emergency health care in a highly stressful environment.
Capable of working alone or in teams.
Perform inventory work and maintenance of army medical equipment.
Plan and manage casualties during emergency settings.
Promote Safety and Personnel Well-being in the workplace.
Assist in planning for Safety and Personnel well-being in the workplace.
Document health care related reports for health statistics.
Apply for this paramedic job with the Army Reserve here
Click [maxbutton id="7″ url="https://www.defencejobs.gov.au/jobs/reserves/army/combat-medical-attendant?utm_source=Indeed&utm_medium=organic&utm_campaign=Indeed" text="APPLY NOW"]  to submit your application.